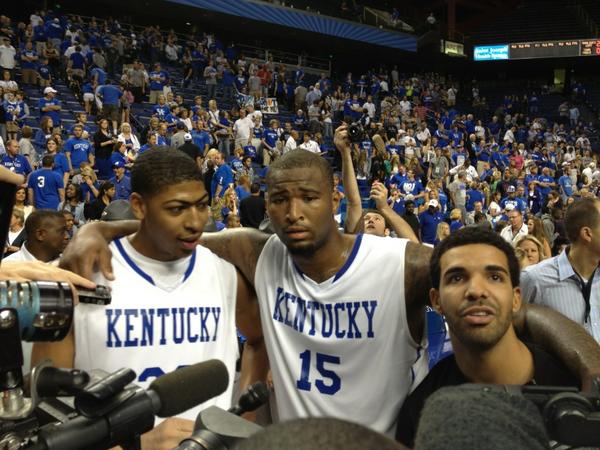 It's around 12:30 am this morning watching ESPN as they recap the lackluster All-Star Weekend when the screen turns red and the only words you see on the screen is BREAKING NEWS. What could be breaking news at this hour? Hopefully, it's nothing tragic like a sports death. It may be a sports death if you're a Kings fan because DeMarcus Cousins was traded to the New Orleans Pelicans for Tyreke Evans, Langston Galloway, Buddy Hield, 2017 first round pick (top 3 protected) and 2017 second round pick. This is ironic because Boogie was just in New Orleans for the all-star game and now this is what he is going to call home. I love the NBA.
DeMarcus Cousins is the enigma of the NBA. For all his talent, which includes a 20-10 average and now implementing the 3 ball, he is known for his technicals and his erratic behavior. Pairing him with Anthony Davis is a dangerous combination for multiple reasons. One reason is that they are top 5 players in their prime and in a half court tempo will give other teams the blues. It can also be dangerous because if they don't mesh this could be another debacle and now you have two disgruntled big men who could leave the city. New Orleans is definitely playing with house money because DeMarcus Cousins is eligible for a 5-yrs./179 million dollar extension this summer and with his hometown being Mobile, Alabama, they have a good chance to re-signing him. These next 3 months will be pivotal in re-signing him because right now they are 2 games out of the 8th spot in the Western Conference playoffs and a potential matchup with either Golden State Warriors or San Antonio Spurs could be enticing. I'm not saying they are going far in the playoffs but anything is possible. Remember the 07 Golden State Warriors led by Baron Davis and Stephen Jackson beating the Dallas Mavericks squad that won 67 games. I'm just saying.
Let's be real. DeMarcus Cousins isn't a winner. He hasn't produced a winning season since he has entered the NBA. For the 7 years that he has been in the league he has gone through multiple coaches, multiple teammates and multiple suspensions. He has already been suspended one game for reaching his 16th technical in the quickest amount of time. 24, 22, 28, 28, 29, 33 and 24 as of now represent the amount of wins the Kings have had since drafting Cousins.
Some are already calling this the heist of the century because of what the Kings received in return. Quite frankly, there isn't enough value that Sacramento was going to receive for Cousins. It's apparent that this was a culture move as the Kings are in full rebuilding mode and it starts with cutting ties with DeMarcus Cousins or this another case the Kings' upper management not knowing what the fuck they are doing.  Even though, he is averaging 27.8 points, 10.7 rebounds and 4.9 assists a game his behavior was too much for the Kings to handle. Face it, you are not going to get equal value for him as various teams like Phoenix Suns, Orlando Magic and Los Angeles Lakers were fielding calls to Vlade Divac in the hopes of obtaining the disgruntled big man. Fear is the biggest motivator because his stats are gaudy but the fear of him ruining your team will get your ass fired. Another fear is the likelihood of re-signing him since he becomes a free agent in 2018. Stars like him never get equal value when they are traded. Other examples of this would be Allen Iverson to the Nuggets, Tracy McGrady to the Rockets and Carmelo Anthony to the Knicks.
The Kings may not have done badly in this deal. Sure they got a lot of players that don't match up to DeMarcus Cousins but once you read the fine print this could be a win for the Kings. The Kings will receive Tyreke Evans, Langston Galloway, Buddy Hield, a first round and a second round pick. They get the Pelicans first round pick which could be as high as the lottery if the Pelicans miss the playoffs as well as their second round pick which came from Philadelphia and stands as the 35th overall pick as of today. Having a high second round pick can provide major dividends ask Golden State and their selection of Draymond Green. Sacramento also receives Buddy Hield who is a marksman from the field. In a shrewd business move trading DeMarcus Cousins practically guarantees that the Kings will keep their first round draft pick which was going to the Bulls in a previous trade if it fell outside the top 10. As of yesterday they were number 11. I can imagine they fall below the top 10 after this deal. Look at it from this standpoint, the Kings could end up with 2 lottery picks in a draft that NBA executives are calling the deepest draft class in 5 years, in addition to Buddy Hield and a top second round pick. This could be the re-emergence of the Sacramento Kings or it could be another example of the Kings being the Kings. According to a recent mock draft, they have the Kings selecting Jayson Tatum from Duke and De'Aaron Fox from Kentucky. These are two players that can jumpstart a franchise and with a high second round pick anything is possible. In other news, the Kings are making Darren Collision, Ben McElmore, and Arron Affalo available for trades as well with the hopes of returning more picks or cap-friendly deals. Let's not forget that Tyreke Evans is on the last year of his deal. He could be bought out by the Kings and become available to any one in the league. Paging the Cleveland Cavaliers…Paging the Cleveland Cavaliers. These moves will create cap space for the summer and could bring more free agents to the city but with so much uncertainty, who wants to come to the Kings. It's apparent that the Kings are ready to rebuild and it just sacrificed its biggest piece.
The Kings have reached that moment of clarity where giving away assets is not the answer. Thinking about long term success and acquiring assets is the sustainable course to right the wrongs of this franchise. For the Pelicans, if this trade works then it's another edition of the Twin Towers and there will be plenty of things to celebrate in the Big Easy. If it doesn't work well I don't even want to know what happens if this doesn't work.
Fortune favors the bold and this was the bold move by both teams. Which fortune will it favor? Only time will tell. All I know is everyone is downloading the latest roster update on 2K. In life you may have to lose in order to win. Who took the bigger L?